Illinois Records Page can guide people feeling lost or confused about locating Illinois public records for free.
The resources listed in this guide are tailored specifically to the state of Illinois and can be used to find free Illinois divorce records, free Illinois marriage records, run a free Illinois warrant search, and obtain public records of all kinds in Illinois for free.
Illinois Public Record Laws (Are Illinois Records Public?)
The Freedom of Information Act (FOIA) grants US citizens the right to obtain government records from state or federal organizations. Thanks to the Illinois Freedom of Information Act, residents—through written requests—are permitted to access recorded information, maps, letters, and other kinds of public records.1
These various records can be found using both free government resources, and paid government resources, in addition to paid and/or free third-party sites. Of course, the obvious upside of government resources is that it's coming straight from the source, but oftentimes users must reveal their own identities to access government records. Yet, some of these government databases can be out of date or difficult to navigate so third-party sites can often guide users in the right direction.
Regardless of which source is used, everyone must know what documents contain the sought-after information, where they're hosted, the appropriate government agency, type of court, etc.
Illinois Criminal Records Guide
Illinois rap sheets usually consist of data associated with a criminal's detentions, arrests, court trials, convictions, and more. Knowledge of someone's criminal history helps maintain the safety of landlords, prospective employers, and everyone else.
Are Criminal Records Public in Illinois?
Criminal records are considered Illinois public records. The Illinois Uniform Conviction Information Act was enacted in 1991. This law states that any conviction records collected by the Illinois State Police have to be made public to interested parties.2
However, accessing this info isn't always black and white since there are countless limits and limitations.
How Do I Find Criminal Records for Free in Illinois?
The Illinois State Police operates a public criminal records web portal called the Criminal History Information Response Process (CHIRP). Before someone commences their criminal record search, they need to first go to the Illinois Department of Innovation and Technology (DoIT) site and register for a State of Illinois Digital ID. (In-state visitors are required to have a valid Illinois driver's license on hand during the signup process. Out-of-state visitors have to fill out an alternative form by mail and wait three to four weeks for approval.)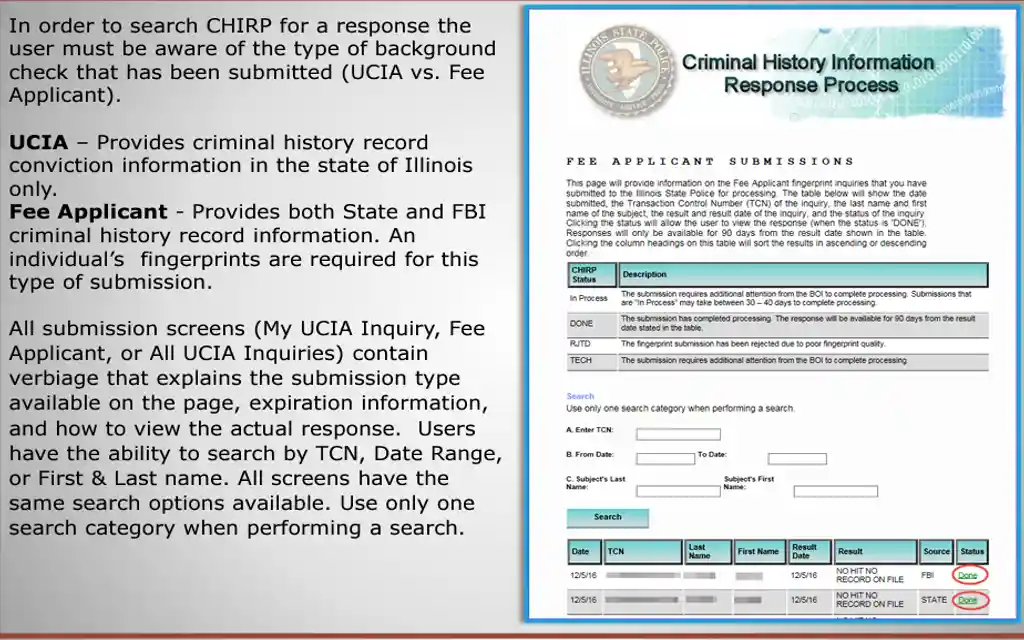 Once they obtain their sign-in credentials, users need to log in with their Digital ID as well as their CHIRP username and password. After registering and submitting an inquiry, site visitors will be directed here:
The types of payments accepted for background checks include e-Checks and credit cards. Anyone who has questions about CHIRP or Digital IDs can contact the Illinois State Police and DoIT through their respective phone numbers and email addresses:
Illinois State Police
Ph: 815-740-5160
Email: [email protected]
DoIT
Ph: 217-524-3648
Email: [email protected]
Additionally, people can research criminal records via other sources like court records.
How Do I Look Up Arrest Records in Illinois?
Some individuals think that Illinois arrest records and criminal records are synonymous terms. This is a common misconception since there are vast differences between them.
For instance, if someone is arrested for a certain crime and taken into custody, it doesn't mean that they're the perpetrator. To put it another way, they've been charged with a crime, but an investigation is ongoing.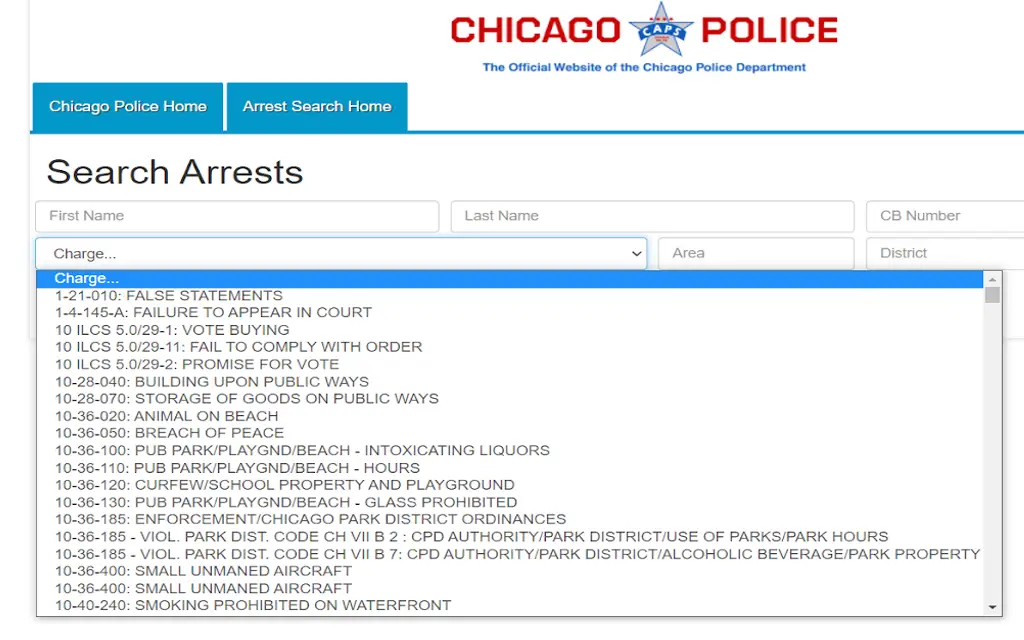 Criminal records contain documentation of someone being found guilty of a misdemeanor or a felony during a court trial.
Illinois residents have lots of resources for finding recent arrests in their local area. For example, anyone who lives in the Chicago area can check out the Adult Arrest Record tool run by the Chicago Police Department. Visitors of the site need to click on the "Search Adult Arrests" button to arrive at this page:
As shown in the image above, it's a very convenient tool since a person can narrow down their searches to a suspect's charge in addition to their name and CB number.
Those who live in Huntley can visit the Huntley Police Department website to read up on arrests in their area. Its recent police reports section keeps a daily log of suspects charged or arrested for a crime. Additionally, residents can dial 847-515-5311 to reach the police department's record division.
Residents dwelling in other counties can apply these search methods to their local jail or police department.
How Do I Find Local Mugshots in Illinois?
A mugshot of a suspect or an inmate makes it easier for someone to locate them, and Illinois locals have great mugshot-tracking options at their fingertips.
The Illinois Department of Corrections (DOC) keeps an online directory of those in custody. People can use its Individual in Custody search tool to locate someone by name, IDOC number, or birthdate. Each result features an inmate's name, physical description, sentencing info, and mugshot.
Sheriff's White County's site has an extremely simple mugshot lookup section. A visitor only needs to click the "Wanted" tab to receive a list of suspects and their photos.
Residents of the Bloomington-Normal area can seek out mugshots provided by the McLean County Sheriff.
Anyone can follow the steps outlined above to research mugshots through their local police department's or county sheriff's website. Calling is a good option, too.
Are Juvenile Records Publicly Available in Illinois?
The criminal records of juveniles aren't considered Illinois public records. But, it doesn't change the fact that they can haunt someone throughout their adulthood. Fortunately, anyone who's broken the law as an adolescent can get their record expunged.
Once they turn 18, they can apply for expungement as long as they completed court supervision orders, their judgment's equal to a petty offense or a misdemeanor, and/or it didn't end in a judgment of delinquency.3
Run a Free Warrant Search in Illinois
Anyone who wants to see if there's a warrant out on someone can visit the Illinois DOC's Wanted Fugitives page. It has photos and information about fugitives from all over the state. Users are advised to call 877-795-4519 if they spot the listed absconders.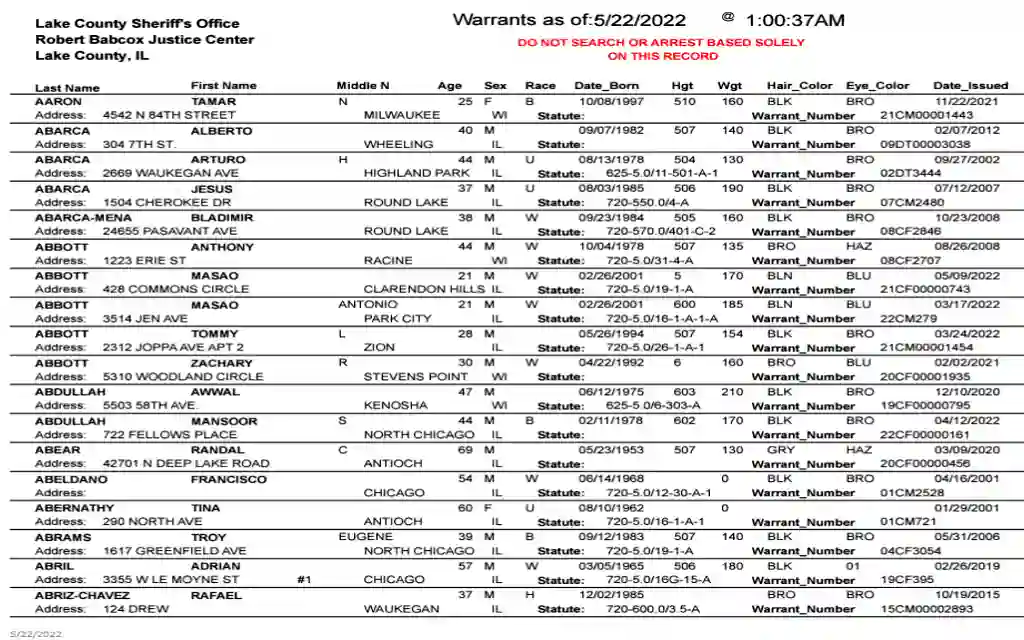 In addition, some counties like the Lake County Sheriff's Office provide a downloadable record of active warrants. Here's a sample of the list:
The McHenry County Sheriff's Office has a Most Wanted page where site visitors are encouraged to divulge any details about someone else or themselves. This office collaborates with Crime Stoppers of McHenry County. People who have information on an offender can call or email them:
McHenry County Sheriff's Office
Ph: 815-338-2144
Email: [email protected]
Crime Stoppers Ph: 800-762-7867
Not every county possesses a warrant list. Residents can then phone their county sheriff's office or police department since a visit may lead to an arrest and incarceration.
How Do I Search Illinois Sex Offender Registry by Name?
Sex offender registries are some of the most crucial Illinois state records to be aware of, particularly if someone is screening candidates for shelters or a child-centered job.
The Illinois State Police has a public records depository of registered sex offenders. On the left side of the page lies a search feature where a person can filter results by name, city, county, offender type, and other options. It also has a Sex Offender Mapping link that gives users a visual tool to locate offenders in certain towns and cities. This feature is especially helpful for families with young children who want to be on the lookout for any sexual predators.
Anyone who spots any errors in the state's sex offender registry can call the Illinois Sex Offender Registration Team (I-SORT). Its number is +1-888-414-7678.
Those interested in conducting national searches for sex offenders can visit the National Sex Offender Public Website.
Furthermore, residents can check the sex offender registries of their local counties by phone or online.
How Do I Get a Background Check in Illinois?
Many things can show up on a background check, not just criminal-related details. Information that typically shows up on a background check includes credit history, employment verification, past and present addresses, and more. Those who desire to conduct a background check on themselves or someone else for employment purposes can use the aforementioned CHIRP portal.
The Illinois Department of Financial and Professional Regulation provides a list of approved fingerprinting vendors.
Background checks are very useful in Illinois because employers have to make sure that prospective employees, especially healthcare providers and child care workers, are safe and trustworthy toward their clients.
There's no way for a person to conduct a personal background check on themselves or someone else through Illinois government sites. Therefore, they have no choice but to utilize third-party sites to carry out their research.
Illinois Court Records (An Overview)
Court records usually contain information related to recordings or transcripts of trials and hearings. All court records are open to the public save for adoption, juvenile, and sealed court records.
Three main courts encompass the Illinois Courts system: the Circuit Court, the Appellate Court, and the Supreme Court. The Circuit Court cooperates with the Supreme Court to handle cases associated with habeas corpus, probate, and revenue. The Appellate Court is where someone can appeal a decision of a specific case. The Supreme Court is located in Springfield, Illinois. It's the highest court in the state, and it oversees the other courts.
How Do I Look Up Court Cases & Records in Illinois?
To locate court records in person, people need to visit the Illinois Courts website, hover their cursor over the "Courts" tab, and click the words "Civil Court Clerks." See the Illinois site for a full list of all the circuit courts in the state including their addresses and phone numbers.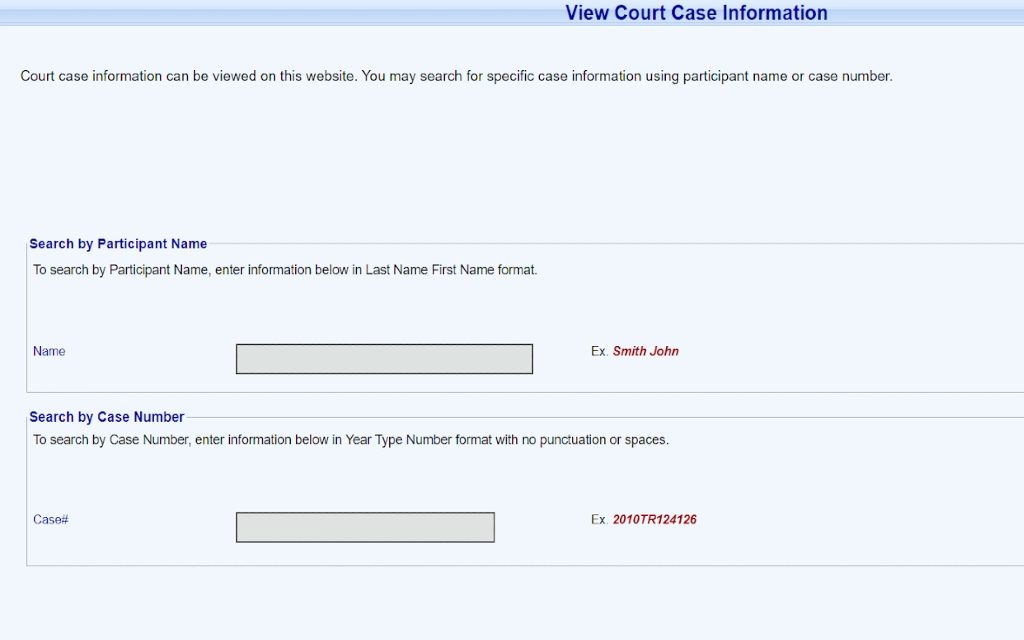 Some of the court clerks have their own online search tools, which makes it convenient for those who prefer to research them from home or another remote location. For instance, the Madison County Circuit Clerk has a nifty court records search tool. Visitors can search for someone by name or case number. They need to click on the "Court Records Search" link to be taken here:
If a person lives in Chicago, Illinois, or its surrounding suburbs and wants to find out if someone has a criminal record, they'd be disappointed to know that they can't electronically retrieve criminal records from Cook County. They need to travel to the Circuit Clerk's Office in the district where the court case took place. Additionally, a disposition fee is required to access said records.4
How to See if Someone Filed for Bankruptcy in Illinois
Many people dread the thought of filing for bankruptcy, but for some, it may be the only option they have to tackle their debt. There are two kinds of bankruptcy for individuals: Chapter 7 and Chapter 13. Chapter 7 deals with liquidating assets whereas Chapter 13 concerns setting up a payment plan.
Illinois residents have to possess an income less than the median household income for their family size to be eligible for Chapter 7. To meet eligibility for Chapter 13, they need a steady income with no more than $419,275 worth of unsecured debt. (Secured debt shouldn't be over $1.26 million.)5
People can visit PACER (Public Access to Court Electronic Records) to request online bankruptcy records. They can search by a specific court or national index. The rate is $0.10 per page, and it's capped at $3.00.
In addition, residents can check out any of the three state federal courts that have their own bankruptcy courts: the Illinois Central Bankruptcy Court, the Illinois Northern Bankruptcy Court, and the Illinois Southern Bankruptcy Court.
Find Illinois Inmates & Their Records (Jail & Prison)
Per the National Institute of Corrections, there are approximately 19,110 inmates in Illinois jails and more than 38,250 inmates in Illinois prisons.6 Some information that can be found via inmate records are photos, inmate release dates, current institution, and details about an inmate's conviction.
How Do I Find Out If Someone is in Jail in Illinois?
People wanting to find out if someone was arrested or is in jail can utilize search tools offered by their local counties. For example, the Cook County Sheriff's Office has a very easy-to-use inmate locator feature. The user first needs to agree with the terms and conditions listed by checking the box before clicking the "Begin Search" button. Site visitors can search by first and last name or by booking number.
A more comprehensive overview of the best ways to find details on inmates and arrests in Cook County–or to find any other records through county custodians–can be viewed via our Cook County public records resource.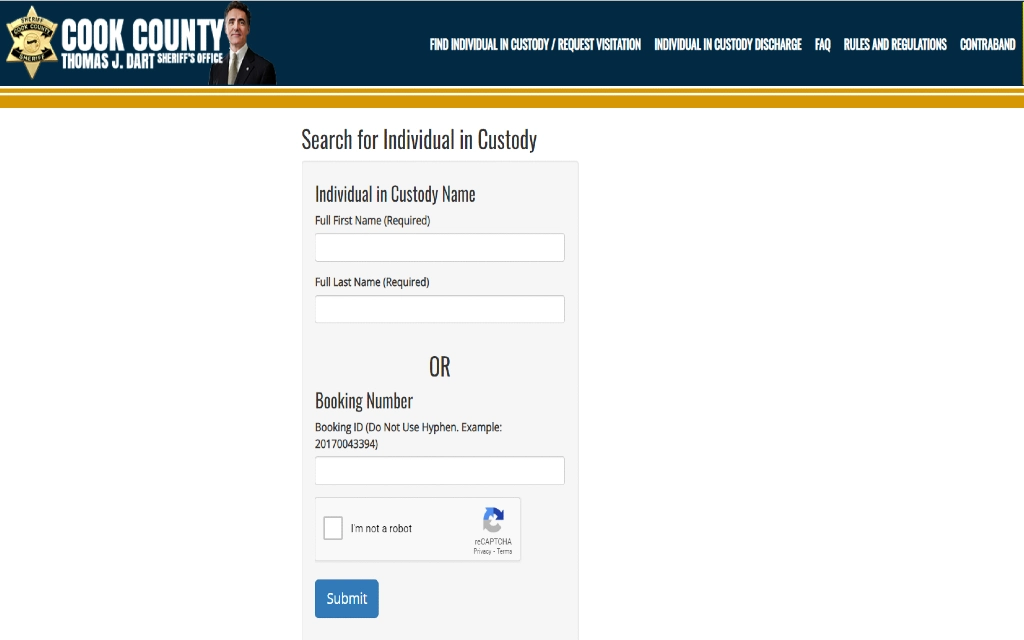 The Dupage County Sheriff's Office provides a handy inmate search tool for those pressed for time. They need to type in a couple of letters in the search box, and the results bring up the names, photos, and booking numbers of inmates. Each result includes a "Read More" link that allows others to learn more about an inmate's bond and charge information.
Because some sheriff's offices don't offer online search databases, people can call their local county jail for inmate information. Someone can also go to the aforementioned Illinois Court site and contact their local Clerk's Office.
How Do I Locate a Prisoner in Illinois' Federal or State Prisons?
If anyone needs to gather information about a local prison inmate, they can use the Illinois DOC inmate custody search feature mentioned earlier in this guide. They can also call, write, or email the department. Below is the contact information of its two locations:
Chicago Location – Illinois DOC
555 W Monroe, 6th FL
Ste 600-S
Chicago, IL 60661
Springfield Location – Illinois DOC
1301 Concordia Ct.
PO Box 19277
Springfield, IL 62794
Ph: 217-558-2200 Ext 2008
Contact Form (Site visitors should select "Record Search" in the General Subject box.)
The Federal Bureau of Prisons (BOP) is where people can locate federal inmates. Its inmate locator tool lets visitors find someone by registered number or their name and other related demographics.
How Do I Find Release Dates for an Illinois Inmate?
Anyone eager to know when their loved one will get parole from the Illinois DOC network can consult the Community Notification of Inmate Early Release Document. Below is a snippet of inmates and their release dates.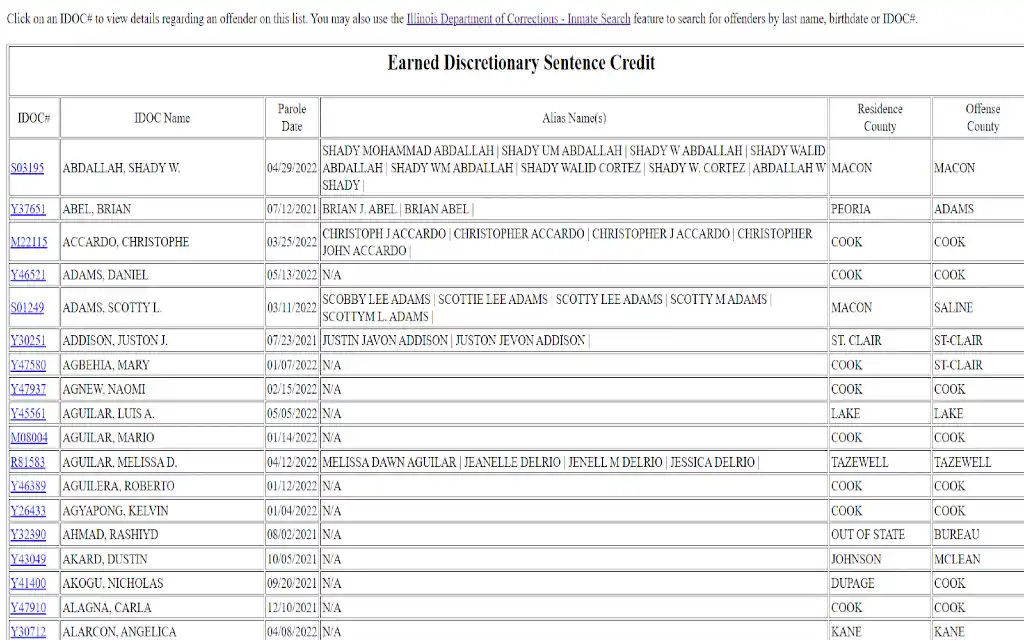 According to the Henry County Sheriff's Office Corrections page, inmates eligible for parole are released around 10 am or about a day after their parole date. People can call 309-937-3578 for release info as well.
In addition, residents can contact their local police departments or counties to find out their inmate release dates.
Process to Visit & Send Money to Illinois Inmates
Anyone planning to visit their incarcerated loved one and/or send them money should read the following guidelines below.
Visiting an Inmate in Illinois
Potential visitors need to follow certain procedures before visiting an Illinois DOC inmate. First, they have to locate the inmate in question via the site's offender search tool. Next, they have to write a letter to prove that they're on the inmate's approved visitation list. Then, the visitor needs to schedule an appointment online seven days in advance. They have 30 minutes to complete their signup, and they have to arrive at said facility 10 minutes before their scheduled time.7
Visitors and inmates can take part in video visitations, too. To opt for this service, people can sign up through this website. It's compatible with Windows, Mac, and other mobile devices. It costs $3.25 per visit, and visits are 20 minutes long.
Sending Money to Illinois Inmates
Inmates residing in the Illinois DOC network through four methods: money order, Western Union, GTL (aka ConnectNetwork), and JPay.
People can send up to $5000.00 through JPay and GTL and up to $3000.00 through MoneyGram. (There's a $999.00 limit for money orders.) Electronic payments take approximately 1-4 days to process. Money orders have to be sent with lockbox deposit slips. Visitors can pick up deposit slips from an inmate's facility and mail them along with payments to this address:
JPay
PO Box 260250
Hollywood, FL 33206
What Are Vital Records? (Free Illinois Divorce Records and Free Illinois Marriage Records)
Illinois vital records mainly contain birth certificates, death certificates, adoption records, genealogy records, marriage certificates, divorce certificates, and civil union records. With that said, this section only concentrates on the birth, death, marriage, and divorce records.
Are Illinois Vital Records Publicly Accessible?
The answer to this question is "yes and no" depending on the vital record. Birth, death, and marriage certificates aren't accessible to the public. Family members, spouses, and other specific individuals are the only people who can request these records. Divorce records are considered Illinois public records. (People can go to court to seal divorce records if they wish.)
Additionally, divorce rates in Illinois are made available through the United States Census, and the image below shows the percentage of the population in Illinois who are divorced.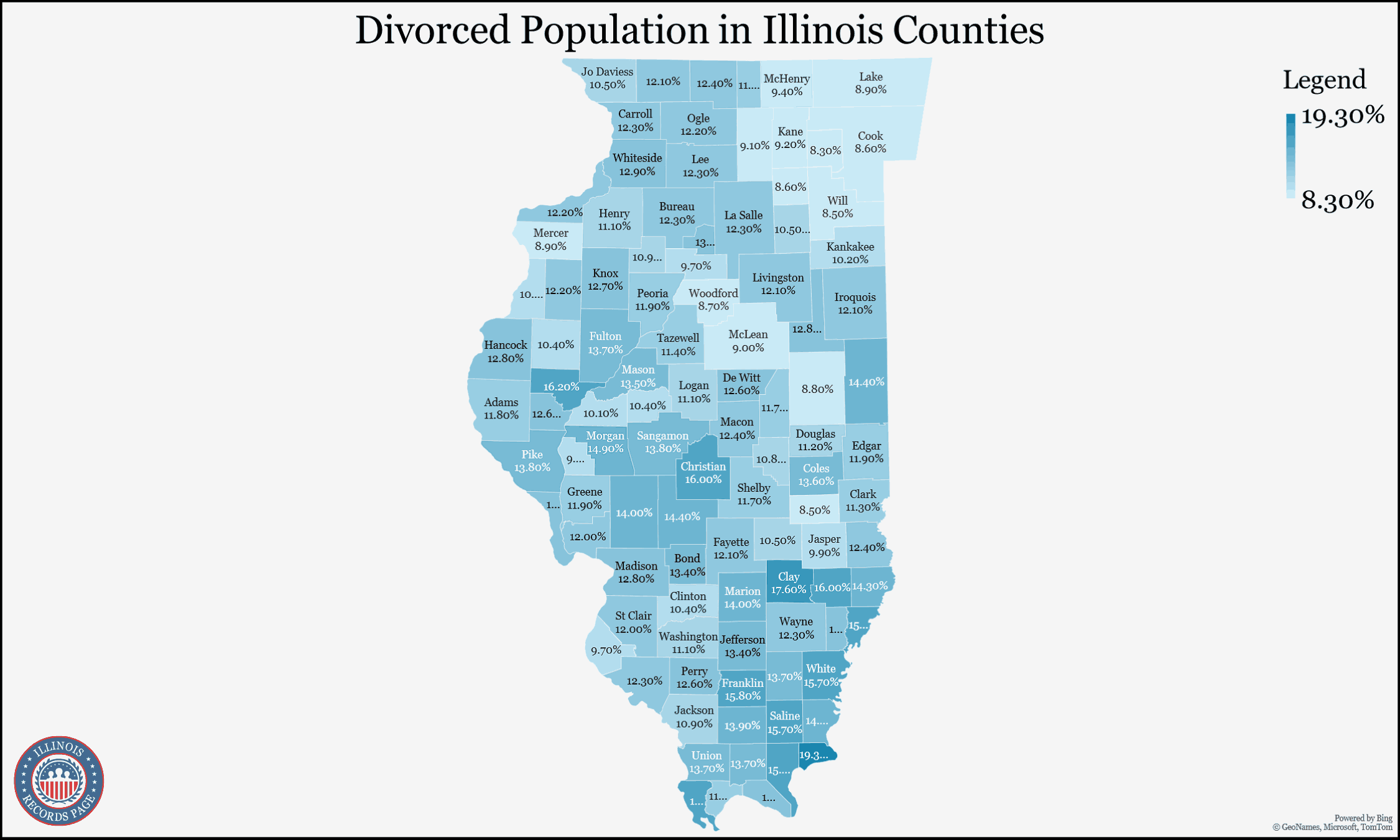 How to Order Replacement Certificates or Vital Records in Illinois
People who need to order a new certified copy of a certificate of birth have many purchasing options through the Illinois Department of Public Health (IDPH), Division of Vital Records. Note, that these procedures are nearly identical when obtaining a death certificate:
In-person – The IDPH operates on weekdays from 10 am to 3 pm. Its address is:
IPDH – Division of Vital Records
925 East. Ridgely Ave.
Springfield, IL 62702-2737
Mail – A person can mail a money order or check to the address mentioned in the previous bullet.
Fax – Someone can fax their payment to 217-523-2678
Online – Electronic payments are made through VitalChek.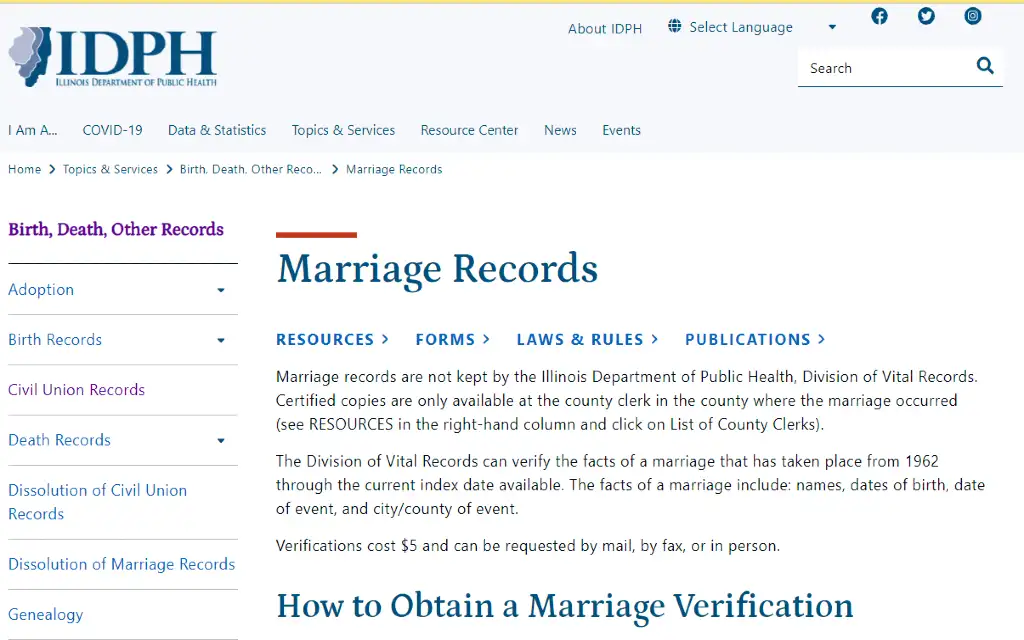 Certified copies of birth and death certificates are $15.00 and $19.00 respectively. Fees for additional copies, genealogy reports, etc. vary. The IDPH doesn't supply marriage certificates and divorce certificates. Interested parties have to obtain them through the Clerk's Office in the county where the marriage or divorce occurred. However, the IDPH can verify them for $5.00.
If anyone wants to find out if someone is married or access public divorce records, they can order via fax, mail, or in person. Note, a valid ID is required for buying a marriage certificate or a divorce certificate for in-person and mail orders.
1Freedom of Information Act – Freedom of Information Act. (n.d.). Illinois.gov. Retrieved May 28, 2022, from <https://www2.illinois.gov/iema/FOIA/Pages/default.aspx>
2Crime Information. (n.d.). Illinois State Police. Retrieved May 28, 2022, from <http://www.isp.state.il.us/crimhistory/chri.cfm/docs/6-713.pdf>
3How Can a Juvenile Record Affect Me as an Adult in Illinois? | Oakbrook Terrace, Illinois, Criminal Defense Attorney. (2020, September 28). Hartsfield Law. Retrieved May 28, 2022, from <https://www.hartsfield-law.com/blog/how-can-a-juvenile-record-affect-me-as-an-adult-in-illinois>
4Baldwin, K. (n.d.). How to get copies of your court records. Illinois Legal Aid Online. Retrieved May 28, 2022, from <https://www.illinoislegalaid.org/legal-information/how-get-copies-your-court-records>
5Finet, J., &amp; Fawbush, J. (2021, April 22). Illinois Bankruptcy Exemptions and Law. FindLaw. Retrieved May 28, 2022, from <https://www.findlaw.com/bankruptcy/bankruptcy-laws-by-state/illinois-bankruptcy-exemptions-and-law.html>
6Illinois 2019. (n.d.). National Institute of Corrections. Retrieved May 28, 2022, from <https://nicic.gov/state-statistics/2019/illinois-2019>
7Visitation Rules &amp; Information – Facilities. (n.d.). Illinois.gov. Retrieved May 28, 2022, from <https://www2.illinois.gov/idoc/facilities/Pages/VisitationRules.aspx>
8Criminal History Information Response Process, 1 October 2019. Accessed 5 May 2023. <https://chirp.isp.illinois.gov/user.pdf>
9The Chicago Police Department. Accessed 5 May 2023. <http://publicsearch1.chicagopolice.org/Arrests>
10The Lake County Sheriff's Office, 2 May 2019. Accessed 5 May 2023. <https://apps03.lakecountyil.gov/sheriff/pdfs/activewarrant.pdf>
11Illinois Courts. Accessed 5 May 2023. <https://www.clericusmagnus.com:8443/profoundui/start?pgm=EDOCS/WDI040CL&p1=%20MA&l1=3>
12The Cook County Sheriff's Office. Accessed 5 May 2023. <https://inmatelocator.ccsheriff.org/InmateLocator/Search>
13Illinois Department of Corrections. Accessed 5 May 2023. <https://www.idoc.state.il.us/subsections/search/EarlyCNER2_6.asp>
14Illinois Department of Public Health. Accessed 5 May 2023. <https://dph.illinois.gov/>