Running a free Illinois arrest and criminal records check for every IL county can be done right now and has never been easier. Search public record databases today with their full name and uncover details about any person's past.
Illinois criminal records can be cumbersome to access since there are so many record-keeping agencies, so Illinois Records Page simplifies the process with our free guides that show readers what records are public, where to look for those records and how the records can be used.
This guide empowers readers with the knowledge, skills, and tools necessary to know how to:
Which Illinois's Criminal Records & Arrest Records Are Open to the Public? Which Records Are Not Public Records in Illinois?
When searching records in Illinois, it's important to know which ones are considered public records, and what restrictions are placed on disclosure. Not all records can be viewed by the general public, and how records are released to the public, and which ones can be released, is outlined in state law.
Under the state's Freedom of Information Act, 5 ILCS 140, Illinois criminal records are considered public records and can be viewed by anyone. The act provides the public with guidance on what records can be accessed and how to make a request.
Arrest records in Illinois are also included under the state's Freedom of Information Act guidance making them public records accessible to anyone upon request, and allows law enforcement agencies to publish certain details about arrests if the agency wishes to do so.
The state FOIA law further requires that arrest records be made available to the media when an arrest is made, and must include the following data:
Certain criminal or arrest records are not considered public including juvenile delinquency records, matters that have been sealed or expunged, or those that are otherwise restricted by the courts or state law (such as investigative reports while a case is still be adjudicated or information that identifies witnesses, victims or confidential informants).2 These records will not appear on daily arrests reports. In addition, per 20 ILCS 2635, certified or official background checks can only reveal convictions, not non-convictions, on any records requested by the public for adult criminal history.
Understanding the difference between an arrest record and a criminal history helps hiring managers, landlords or licensing boards make decisions on candidate applications.
Illinois Criminal Records vs Arrest Records: Differences Between Each Type
Arrest records in Illinois reveal that a person was taken into custody by law enforcement, housed in a detention facility until bonded out or until trial, and that the person was accused of committing a criminal offense. Arrest records do not show anything beyond the initial law enforcement contact with the suspect.
It is not a record of disposition, so an arrest record is only a portion of an overall criminal history. Because Illinois law prohibits background checks from placing non-conviction information on a report, an arrest may not even show up until there is a disposition against the defendant.3
Arrest records are public record, and can be requested by anyone, but they are only one part of the total Illinois criminal history. Illinois criminal records show all the data included in an arrest record plus what happened with the case in court, and if there is a non-conviction, such as a dismissal or acquittal, the matter will not appear on an official criminal history report.
Only convictions for misdemeanor or felony offenses become part of the public criminal record report.
This distinction between the two types of records is why agencies or businesses are advised against using just arrest records to make hiring decisions, and are provided guidance from state and federal sources, such as the Equal Employment Opportunity Commission, on uses of criminal history when on-boarding new staff. An arrest record may be how to find out what someone was arrested for, but may not show what they were convicted of. More about the laws surrounding background checks in Illinois can be found further below.
How To Search Recent Arrests & Learn Why Someone Is in Jail in Illinois: Try This Search for Free
When a person is taken into custody, people will wonder why they were arrested, or someone may want to know if a person they know has been arrested and where they are being held. Others may just be curious to see who's in jail in their area and why someone is in jail.
Doing a jail inmate search is also how to find out someone's charges in jail. Searching arrest records should start with the local sheriff's office which usually maintains the county jail.
Even when the county agency is not the arresting agency, it is best practice to start with the county sheriff's department for an inmate search instead of the local police department. For the searcher's convenience, we have included a table below that lists the county sheriff's offices, links to pages (where available), and information on whether the page has an inmate search tool and shows a mugshot.
Review County Arrest Records Search in Illinois: (IL Mugshots & Inmate Search Methods)
Using the table we've provided here, searchers can try to find out if a person in their area is in jail, or how to find recent arrests. Each listing provides a non-emergency contact number to make jail inquiries.
Individuals can also search using VINELink, which is the only approved third-party vendor for maintaining jail records for Illinois jails, and can help someone find recent arrests.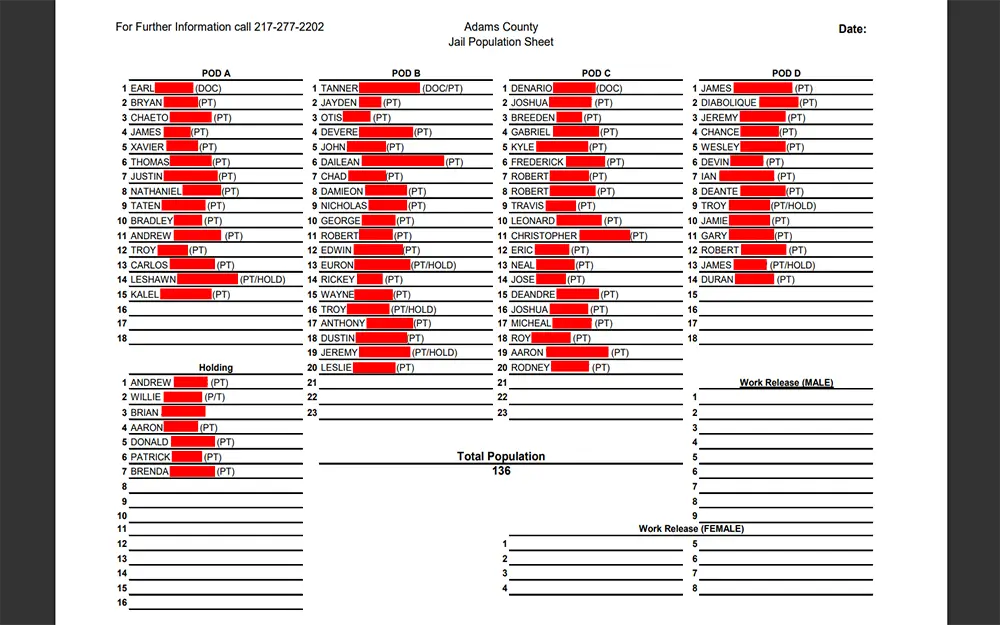 The table below lists all Illinois county sheriff's offices with contact information:
*County does not public inmate list
**Agency does not have a working website at this time
***Agency uses a mobile app to display inmate roster/list
+Agency uses VINELink for inmate inquiries
++Sheriff's Office uses neighboring county to house inmates
+++Inmate Roster is for internal use only/requires pre-authorization to access
In addition to the table above, searchers can do the steps below are how to find out if someone was arrested and where they are located:
Open a search engine on the computer such as Google or Bing.
Type Illinois [city or county of arrest] jail search.
Review the list of search returns for the official agency website. While most government websites end in .gov or .us, local law enforcement agencies may have websites that have a different url ending to the web address such as .org, .net or .com.
Click the link for the official website and look for a link titled inmate search, inmate lookup, or inmate roster (or a similar title).
Follow the on-screen prompts to view the inmate listing. For example, if a name search must be conducted, enter the first and last name. If there is a full roster, review the roster to find the subject.
If there is no link to search or view detainees, call the non-emergency number listed on the website to make an inquiry.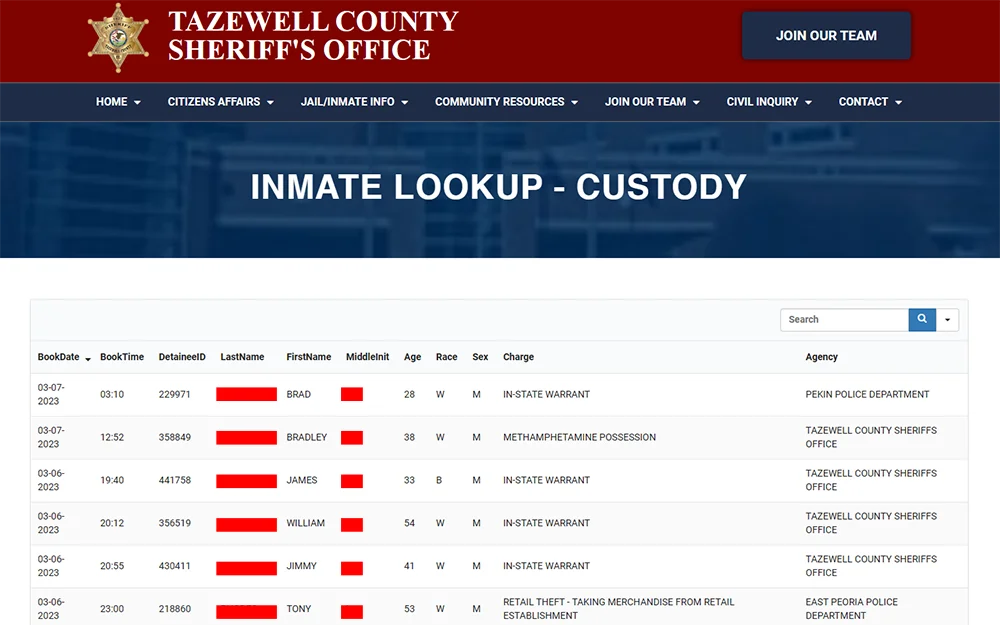 For example, if someone wanted to search inmates at Tazewell County Sheriff's Office would do the following:
Google Illinois Tazewell County jail search.
In the search returns, find and click the link for Tazewell County Sheriff's Office inmate lookup page.
Review the inmate roster to see if the subject of the search is listed.
County sheriff's departments are not the only agency that makes arrests, but they are usually the departments tasked with housing inmates even when taken into custody by city police. Learn more below about how to find inmates when arrested by city law enforcement.
How To Look Up Recent Arrests in Illinois's City Jails
While county lockup is the first place to look when searching arrest records, city law enforcement sometimes release recent arrest records or maintain a city jail. This is usually in larger metropolitan areas with higher populations and higher crime.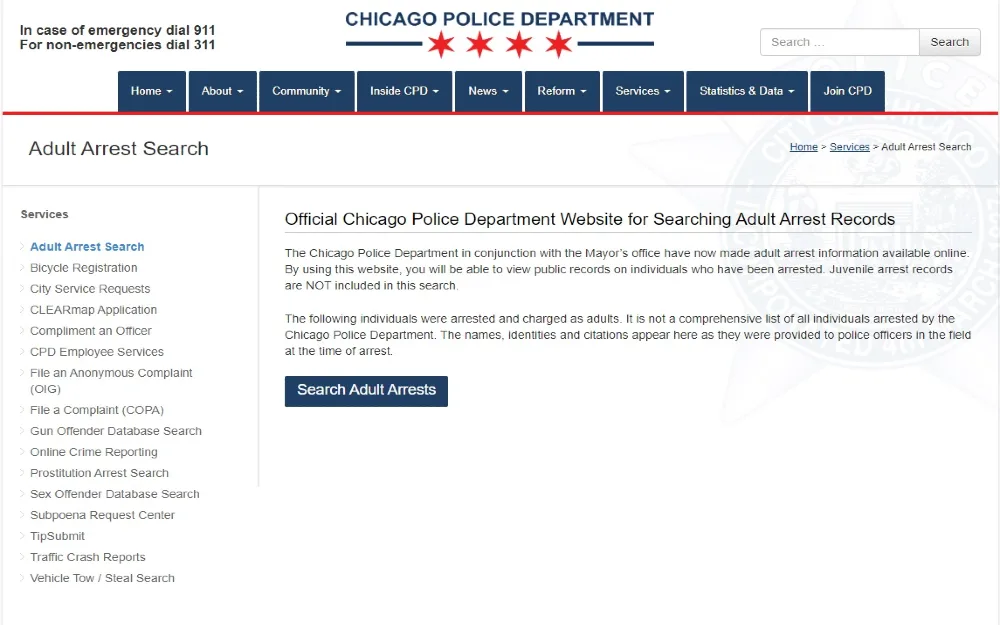 For example, the Chicago Police Department maintains an online portal for individuals to search recent arrests. The information provided includes the person's name, when and where the arrest was made, bond information, charges and a mugshot.
There is also a section that lists release date or where the person is being housed if they have not made bond or had a hearing. This arrest report can be used to see why someone was taken into custody by Chicago PD.4
Aurora Police Department, however, does not list current arrests online, so to learn about where someone was taken after an arrest by Aurora PD, the searcher would need to call the police department's non-emergency line at 630-256-5000, or search the jail in one of the four counties Aurora spans: DuPage, Kane, Kendall or Will Counties.5
Joliet, the third largest city in Illinois, also does not publish a list of arrestees by Joliet Police Department, so searchers would need to check the county lockup in Will County to see if a Joliet PD arrestee is housed in that location.6
Can You Run a Statewide Public Arrest Record Search in Illinois?
While there is not a statewide arrest records database, searchers can use the Illinois Court search engine to search all court filings and see if the filings show an arrest warrant has been issued in a case. This requires clicking each individual case filing for the subject to review details, which can take some time to complete.
The online database does require registration to access court records, but searchers are only charged when requesting official copies, not per search.7
The court search portal is one way to look up criminal records in the state, since the courts are the official compilers of the overall criminal record, and searching these records is discussed further below. One of the primary reasons most people look for someone in jail is to find out how to get the person released or how to make contact.
How To Contact an Illinois Inmate and Post Bail
Finding out where a person is housed is key to making contact with the inmate, and in finding out how much the person's bond is and how to post bond/bail. Using the search steps and table above for city and county law enforcement agencies, a person can locate where someone is being housed and learn about visitation, contact and bond from the agency website or by calling the non-emergency number listed in the table or on the agency's homepage.
Each jail can set its own visitation schedules and the method of visitation (in person or via video), so it's important to read all the information on visitation and contact on the department's website. If there is no working website, individuals can call the non-emergency number to learn more about visitation and contact.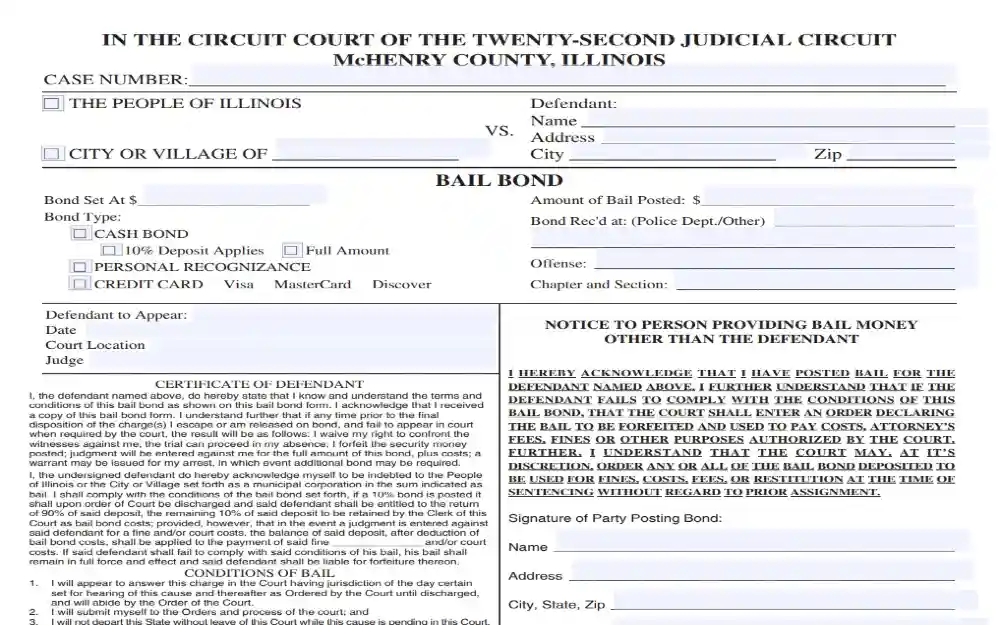 For example, Lake County Sheriff's Office only accepts cash or cashier's checks to post bail per the agency website, and the website informs family and friends posting bond they must complete a bail bond form supplied by the circuit court for bonds under $10,000 and a source of bond information form for bonds over $10,000 as outlined on the agency website.8
Using the table of county sheriff's offices above, searchers can reach out via the website or non-emergency number to learn about contacting inmates or posting bail at a particular facility.
Arrest records in Illinois are only one part of a person's overall criminal history, and occur at the beginning of building the individual's court or criminal record. Below is more about how to use court records to build a more comprehensive criminal history on someone.
Find Out How To Look Up Criminal Records in Illinois (Search IL Criminal Records)
The Illinois Courts branch of government is responsible for receiving all criminal complaints filed in the circuit or jurisdiction where the arrest or charge was filed, scheduling a hearing or hearings, and maintaining a record of what happens in each case in that circuit. Each county has a circuit clerk of court that manages the court staff in that area.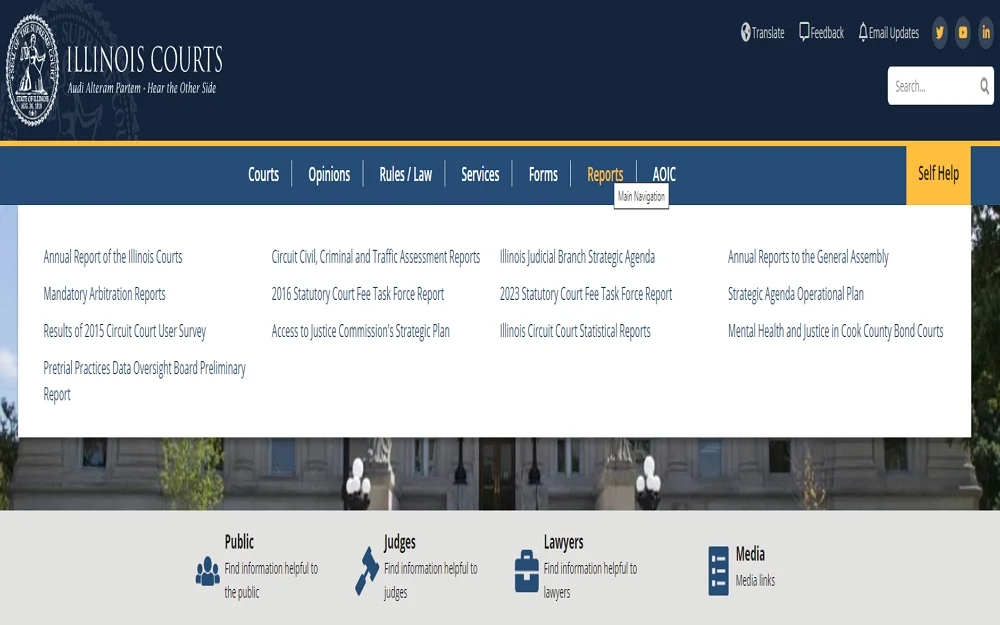 Victims, witnesses or the public in general want to know what happens when someone they know or someone who lives in their area is charged with a crime. To search Illinois criminal records through the court system, do the following steps:
Open the Illinois Courts page.
Hover the mouse over the services tab to see the drop-down menu.
Click the link for the online state court record repository titled re:SearchIL. Take note that this is a .net site, not a .gov, but it is still the official state public records repository for court records.9
Searchers must register to access the website. Registration is free and can be done as either the defendant seeing what shows up on his or her record, or as the general public for those just seeking data in their area.
Log into the registered account.
Click the advanced search button on the page.
Click the first search category section, and select party from the drop-down menu to do a name-based search.
Enter the person's first and last name and click the search button.
A list of all cases with that party's name will appear. Clicking the name at the top of each box will show details about the case.
While this will give information on cases statewide, sometimes searchers just need information from the local jurisdiction or courthouse. This can be done by going directly to the court and using a public terminal at the clerk's office.
How To Run an Illinois Criminal Record Search Using the County's Circuit Court Case Access
Here, we have included a list of each county's circuit clerk of court. Information on court cases that are heard in that particular county can be found at the clerk's office using one of the public terminals.
Requests for copies of court documents can also be made in person at the clerk's office. Find the address and phone number for the local court in the table below:
Illinois County Circuit Clerk's Office
Address
Phone Number
Adams County Circuit Clerk
521 Vermont St
Quincy, IL 62301-2934
217-277-2100
Alexander County Circuit Clerk
2000 Washington
Cairo, IL 62914-1717
618-734-0107
Bond County Circuit Clerk
200 W College
Greenville, IL 62246-1057
618-664-3208
Boone County Circuit Clerk
601 N Main Number 303
Belvidere, IL 61008-2644
815-544-0371
Brown County Circuit Clerk
200 Court St Rm 5
Mt. Sterling, IL 62353
217-773-2713, extension 2
Bureau County Circuit Clerk
700 S Main St
Princeton, IL 61356-2037
815-872-2001
Calhoun County Circuit Clerk
POB 486
Hardin, IL 62047-0486
618-576-2451
Carroll County Circuit Clerk
301 N Main St
Mt. Carroll, IL 61053-0032
815-244-0230
Cass County Circuit Clerk
POB 203
Virginia, IL 62691-0203
217-452-7225
Champaign County Circuit Clerk
101 E Main St
Urbana, IL 61801-2736
217-384-3725
Christian County Circuit Clerk
101 S Main
Taylorville, IL 62568-0617
217-824-4966
Clark County Circuit Clerk
POB 187
Marshall, IL 62441-0187
217-826-2811
Clay County Circuit Clerk
111 Chestnut
Louisville, IL 62858-0100
618-665-3523
Clinton County Circuit Clerk
850 Fairfax Street
Carlyle, IL 62231
618-594-6615
Coles County Circuit Clerk
651 Jackson Ave Rm 128
Charleston, IL 61920-0048
217-348-0516
Cook County Circuit Clerk
50 West Washington Ste 1001
Chicago, IL 60602-1305
312-603-5030
Crawford County Circuit Clerk
POB 655
Robinson, IL 62454-0655
618-544-3512
Cumberland County Circuit Clerk
1 Courthouse Sq Rm 107
Toledo, IL 62468-0145
217-849-3601
DeKalb County Circuit Clerk
133 W State St
Sycamore, IL 60178-1416
815-895-7131
DeWitt County Circuit Clerk
201 West Washington Street
Clinton,IL 61727-0439
217-935-7750
Douglas County Circuit Clerk
401 S Center
Tuscola, IL 61953-0050
217-253-2352
DuPage County Circuit Clerk
POB 707
Wheaton, IL 60187-0707
630-407-8700
Edgar County Circuit Clerk
115 W Court St
Paris, IL 61944-1739
217-466-7447
Edwards County Circuit Clerk
50 E Main St Ste 7
Albion, IL 62806-1262
618-445-2016
Effingham County Circuit Clerk
120 West Jefferson, Ste 101
Effingham, IL 62401-0586
217-342-4065
Fayette County Circuit Clerk
221 S 7th St
Vandalia, IL 62471-2755
618-283-5009
Ford County Circuit Clerk
200 W State
Paxton, IL 60957-0080
217-379-9420
Franklin County Circuit Clerk
POB 485
Benton, IL 62812-2264
618-439-2011
Fulton County Circuit Clerk
POB 152
Lewistown, IL 61542-0152
309-547-3041
Gallatin County Circuit Clerk
POB 249
Shawneetown, IL 62984-0249
618-269-3140
Greene County Circuit Clerk
519 N Main St
Carrollton, IL 62016-1093
217-942-3421
Grundy County Circuit Clerk
POB 707
Morris, IL 60450-0707
815-941-3256
Hamilton County Circuit Clerk
100 S Jackson St
McLeansboro, IL 62859-1490
618-643-3224
Hancock County Circuit Clerk
POB 189
Carthage, IL 62321-0189
217-357-2616
Hardin County Circuit Clerk
POB 308
Elizabethtown, IL 62931-0308
618-287-2735
Henderson County Circuit Clerk
POB 546
Oquawka, IL 61469-0546
309-867-3121
Henry County Circuit Clerk
307 W Center St
Cambridge, IL 61238
309-937-3752
Iroquois County Circuit Clerk
550 S 10th St
Watseka, IL 60970-1810
815-432-6950
Jackson County Circuit Clerk
POB 730
Murphysboro, IL 62966-0730
618-687-7300
Jasper County Circuit Clerk
100 W Jourdan St
Newton, IL 62448-1973
618-783-2524
Jefferson County Circuit Clerk
POB 1266
Mt. Vernon, IL 62864-1266
618-244-8008
Jersey County Circuit Clerk
201 W Pearl St
Jerseyville, IL 62052-1852
618-498-5571
Jo Daviess County Circuit Clerk
330 N Bench St
Galena, IL 61036-1828
815-777-0037
Johnson County Circuit Clerk
401 Court St Ste A
Vienna, IL 62995-0517
618-658-4751
Kane County Circuit Clerk
540 South Randall Road
St. Charles, IL 60174
630-232-3413
Kankakee County Circuit Clerk
450 E Court St
Kankakee, IL 60901-3917
815-936-5700
Kendall County Circuit Clerk
807 W John St
Yorkville, IL 60560-0259
630-553-4183
Knox County Circuit Clerk
200 S Cherry St
Galesburg, IL 61401-4912
309-345-6719
Lake County Circuit Clerk
18 N County St
Waukegan, IL 60085-4340
847-377-3380
LaSalle County Circuit Clerk
119 West Madison St Rm 201
Ottawa, IL 61350-0617
815-434-8671
Lawrence County Circuit Clerk
1100 State St
Lawrenceville, IL 62439-2390
618-943-2815
Lee County Circuit Clerk
309 South Galena Ste 320
Dixon, IL 61021-0325
815-284-5234
Livingston County Circuit Clerk
110 North Main Street
Pontiac, IL 61764-0320
815-844-2602
Logan County Circuit Clerk
POB 158
Lincoln, IL 62656-0158
217-735-2376
Macon County Circuit Clerk
253 E Wood St
Decatur, IL 62523-1489
217-424-1454
Macoupin County Circuit Clerk
POB 197
Carlinville, IL 62626-1824
217-854-3211
Madison County Circuit Clerk
155 N Main St
Edwardsville, IL 62025-1955
618-692-6240
Marion County Circuit Clerk
100 E Main St
Salem, IL 62881-0130
618-548-3856
Marshall County Circuit Clerk
122 North Prairie
Lacon, IL 61540-0328
309-246-6435
Mason County Circuit Clerk
125 N Plum
Havana, IL 62644-0377
309-543-6619
Massac County Circuit Clerk
1 Superman Sq Rm 2-D
Metropolis, IL 62960
618-524-5011
McDonough County Circuit Clerk
Number 1 Courthouse Sq
Macomb, IL 61455-0348
309-837-4889
McHenry County Circuit Clerk
2200 N Seminary Ave Rm 352
Woodstock, IL 60098-2837
815-334-4310
McLean County Circuit Clerk
104 W Front St Rm 404
Bloomington, IL 61701-5005
309-888-5301
Menard County Circuit Clerk
102 South 7th Street
Petersburg, IL 62675
217-632-2615
Mercer County Circuit Clerk
100 SE 3rd St
Aledo, IL 61231-0175
309-582-7122
Monroe County Circuit Clerk
100 S Main St Rm 115
Waterloo, IL 62298-1322
618-939-8681
Montgomery County Circuit Clerk
120 North Main St Rm 125
Hillsboro, IL 62049-0210
217-532-9546
Morgan County Circuit Clerk
POB 1120
Jacksonville, IL 62650-1165
217-243-5419
Moultrie County Circuit Clerk
10 S Main St Ste 7
Sullivan, IL 61951-1969
217-728-4622
Ogle County Circuit Clerk
106 S 5th St Ste 300
Oregon, IL 61061-0337
815-732-3201
Peoria County Circuit Clerk
324 Main St Rm G-22
Peoria, IL 61602-1319
309-672-6989
Perry County Circuit Clerk
POB 219
Pinckneyville, IL 62274-0219
618-357-6726
Piatt County Circuit Clerk
101 W Washington Street
Monticello, IL 61856-0288
217-762-4966
Pike County Circuit Clerk
100 E Washington
Pittsfield, IL 62363-1497
217-285-6612
Pope County Circuit Clerk
310 E Main St
Golconda, IL 62938-0502
618-683-3941
Pulaski County Circuit Clerk
500 Illinois Avenue
Mound City, IL 62963
618-748-9300
Putnam County Circuit Clerk
120 N 4th St
Hennepin, IL 61327-0207
815-925-7016
Randolph County Circuit Clerk
Number 1 Taylor St Rm 302
Chester, IL 62233-0329
618-826-5000
Richland County Circuit Clerk
103 West Main St Number 21
Olney, IL 62450-2170
618-392-2151
Rock Island County Circuit Clerk
POB 5230
Rock Island, IL 61201-5230
309-558-3538
Saline County Circuit Clerk
10 E Poplar St
Harrisburg, IL 62946-1553
618-253-5096
Sangamon County Circuit Clerk
200 S 9th St Rm 405
Springfield, IL 62701-1299
217-753-6674
Schuyler County Circuit Clerk
102 South Congress Ste 103
Rushville, IL 62681
217-322-4633
Scott County Circuit Clerk
35 E Market St
Winchester, IL 62694-1216
217-742-5217
Shelby County Circuit Clerk
POB 469
Shelbyville, IL 62565-0469
217-774-4212
St Clair County Circuit Clerk
10 Public Sq
Belleville, IL 62220-1623
618-277-6832
Stark County Circuit Clerk
130 W Main St
Toulon, IL 61483-0426
309-286-5941
Stephenson County Circuit Clerk
15 N Galena Ave
Freeport, IL 61032-0785
815-235-8266
Tazewell County Circuit Clerk
342 Court St
Pekin, IL 61554
309-477-2214
Union County Circuit Clerk
309 W Market St Room 101
Jonesboro, IL 62952
618-833-5913
Vermillion County Circuit Clerk
7 N Vermilion Street
Danville, IL 61832-5806
217-554-7700
Wabash County Circuit Clerk
401 Market St
Mount Carmel, IL 62863
618-262-5362
Warren County Circuit Clerk
100 W Broadway
Monmouth, IL 61462-1795
309-734-5179
Washington County Circuit Clerk
125 East Elm St
Nashville, IL 62263-1100
618-327-4800
Wayne County Circuit Clerk
301 E Main St Ste 204
Fairfield, IL 62837-0096
618-842-7684
White County Circuit Clerk
POB 310
Carmi, IL 62821-0310
618-382-2321
Whiteside County Circuit Clerk
200 E Knox St
Morrison, IL 61270-2819
815-772-5188
Will County Circuit Clerk
14 W Jefferson St
Joliet, IL 60432-4399
815-727-8592
Williamson County Circuit Clerk
200 WJefferson Ste 100
Marion, IL 62959-2494
618-997-1301
Winnebago County Circuit Clerk
400 W State St Rm 100
Rockford, IL 61101-1221
815-319-4500
Woodford County Circuit Clerk
POB 284
Eureka, IL 61530-0284
309-467-3312
Court records are considered public records and are one way to search a person's criminal history, but official copies must be obtained through another state resource: the Illinois State Police Bureau of Identification, and the process for accessing those records appears below.
Learn How To Get a Copy of Criminal Records in Illinois
The Illinois State Police is the official provider of certified employment or housing background checks in the state. Agencies or businesses must register with the state's Division of Innovation and Technology for a digital ID to access records online.
To request a copy of a person's criminal record through the Illinois State Police do the following:
Open the Illinois State Police (ISP) website.
Click the link for CHIRP (Criminal History Information Response Process) which is the official online request portal.
Register for a digital ID through the state. Once a digital ID has been issued, the searcher can request Illinois criminal records online.
Once registered, log into the account and do a name-based search for Illinois criminal records.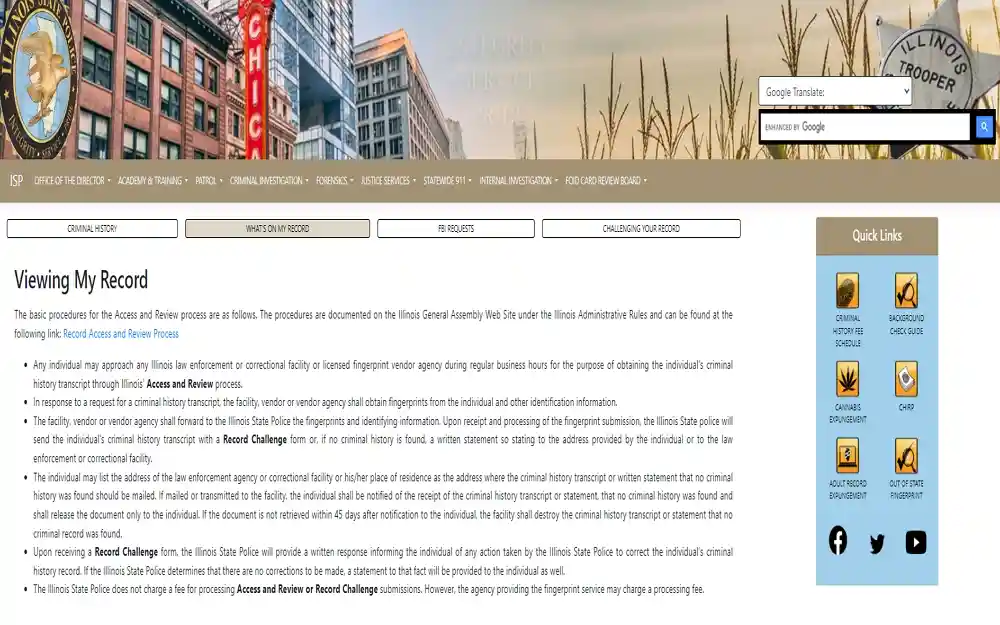 The ISP prefers requests for background checks be submitted through CHIRP or through the online Uniform Conviction Information Form. There is a slight fee per record for an official background check.
The subject must also be informed of the screening and give consent to the background check before the ISP will run this person's history.
Individuals wishing to see their own Illinois criminal record can request a copy of it from any local state police department, correctional facility, or licenses vendor that can take the person's fingerprints to run the record.10
How to check if someone has a criminal record helps with making decisions for housing, employment or personal reasons. Obtaining a person's criminal record can show if the person was convicted of any misdemeanor or felony charges in the state and was placed in prison or received a sentence of probation (either supervised or unsupervised). Read below for more information about probation and parole.
How To Determine if Someone Is on Probation or Parole in Illinois
Probation and parole is a form of court ordered supervision that occurs in the community rather than in a prison setting.
For reference, the following image displays the total number of probationers and parolees in Illinois and compares it with other states across the United States. Additionally, it showcases the ethnicities of individuals on community supervision in Illinois, including probation and parole.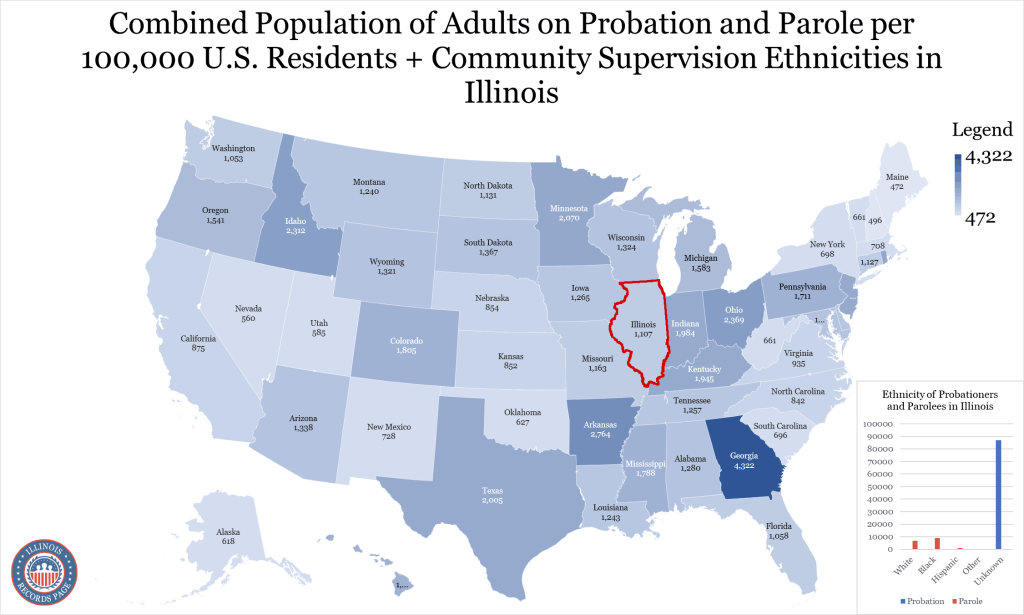 To see who is on probation in Illinois, do the following steps:
Open the Illinois Courts Probation Services Division website.
Searchers will note there is no online link for probationer searches on the website. To learn someone's probation status, a person will need to search a person's court records through the Illinois Court System Services statewide records repository link which requires registration.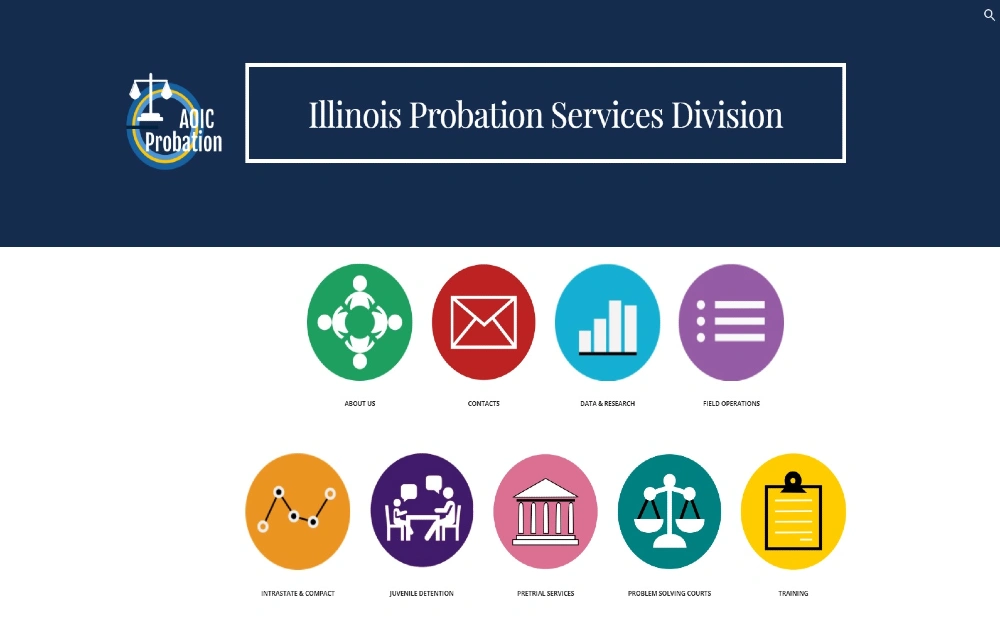 There are 24 circuit court districts in Illinois, plus Cook County which is a separate district; further information on how to look up Cook County probationers can be reviewed through our Cook County public records resource, along with instructions on retrieving various other record types through official county agencies.
The table below lists the phone number for each county office within in each district for adult probation information:
Parole records are different from probation. Parole is a form of community supervision afforded to inmates in state prisons that are released early for a variety of reasons, most of which is showing signs of rehabilitation. Parole supervision falls under the control of the Illinois Department of Corrections (IDOC).
To search a parolee database in Illinois, do the following steps:
Open the Illinois Department of Corrections (IDOC) website search portal at the top of the list.
Click the circle to do a search by last name.
Key in the subject's last name and click the find button.
Review the list of search returns to find the record for the subject. Click on that record to view details.
In the section that shows offender status, if the person is on parole, the record will note parole. Further down the date the person was released from prison on parole will be listed along with the date the person will be released from community supervision.
Parole records also show where the person was previously incarcerated, the charges that resulted in a prison sentence, and a physical description of the person along with a mugshot.11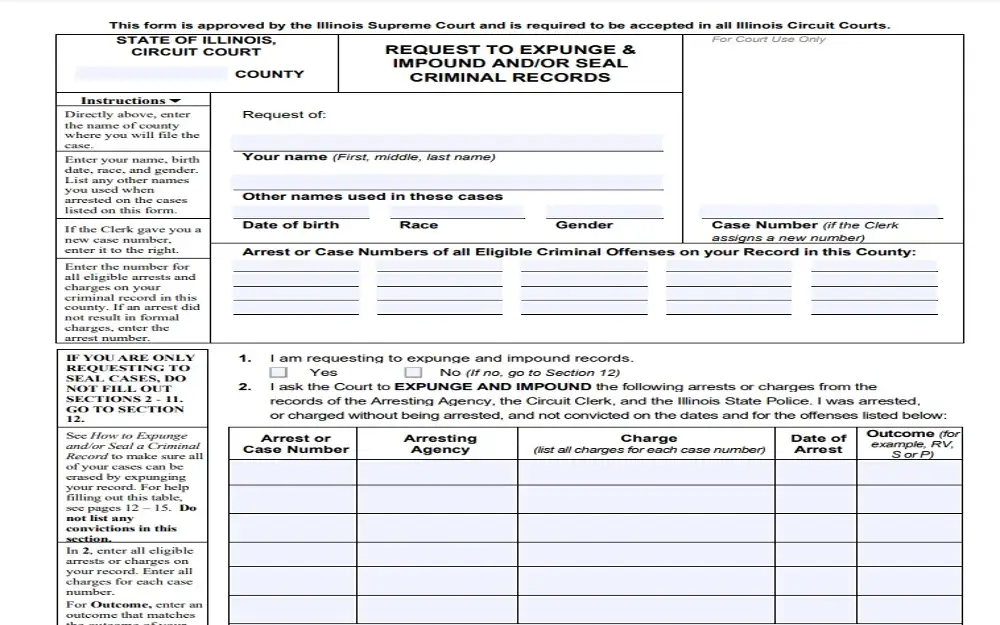 Even though parole is early release from prison, it doesn't automatically drop off a person's record just because they were released before the end of their active sentence. These records are not how to find out if someone is in jail. Matters that have not been sealed or expunged will continue to appear on a record, as discussed next.
Understanding How To Seal or Expunge a Criminal Record in Illinois?
Sealing or expunging a record removes it from public view meaning it cannot and should not appear on a criminal background check. The process to seal or expunge a record in Illinois is listed below:
Open a search engine online such as Google.
Type steps to seal or expunge cases in Illinois.
Look for the official state agency website that handles sealing and expunging cases. In this search, it is the Illinois Office of the State Appellate Defender website.
On the website, find the correct expungement form and click the link for that form. Available forms include: juvenile, adult, and cannabis forms.
Clicking the link will provide details of how to complete and file the form. Download and complete the correct form or forms.
File the forms in the circuit court where the disposition was entered in the charges on the record in person at the courthouse, or via e-file online at the Illinois Courts website.
The circuit clerk will submit notice of the petition to expunge to the district attorney and city or town counsel/attorney where the arrest occurred, the agency that made the arrest or filed the charges, and the Illinois State Police in the event one of these agents wishes to file a counter to the petition.
If there is no objection, the court can enter the expungement without a hearing. If there is an objection, a hearing will be scheduled.
The court will make the final decision on the petition. If expungement is granted, the agencies involved will be notified of the decision and the record will be disposed of as outlined in the court's order.12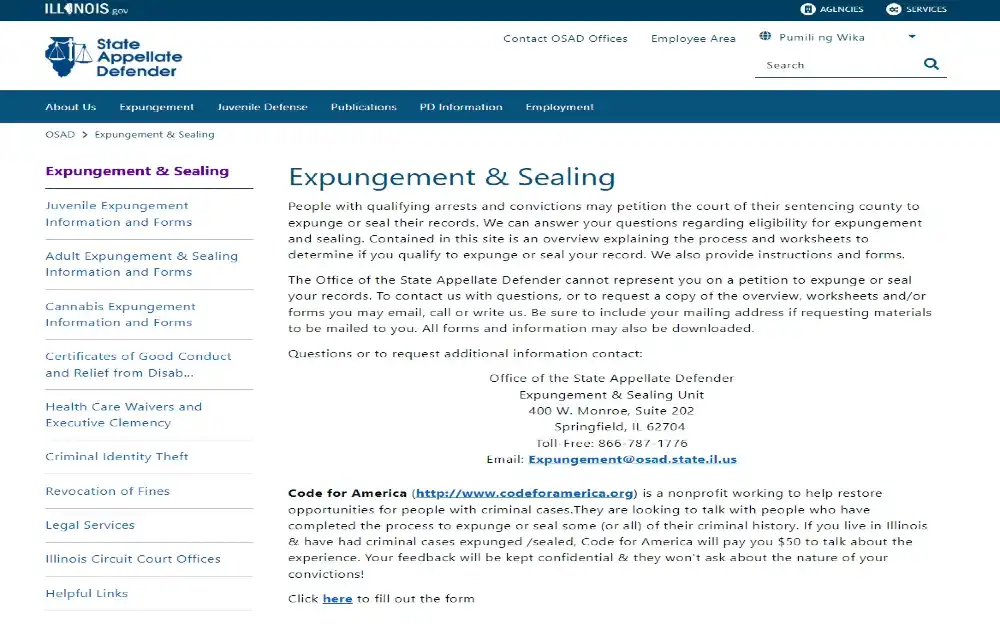 Sealing or expunging cases is dependent on whether the offense meets the necessary criteria or not. The following cases can be expunged in Illinois:
Convictions that are not eligible for expungement or sealing include: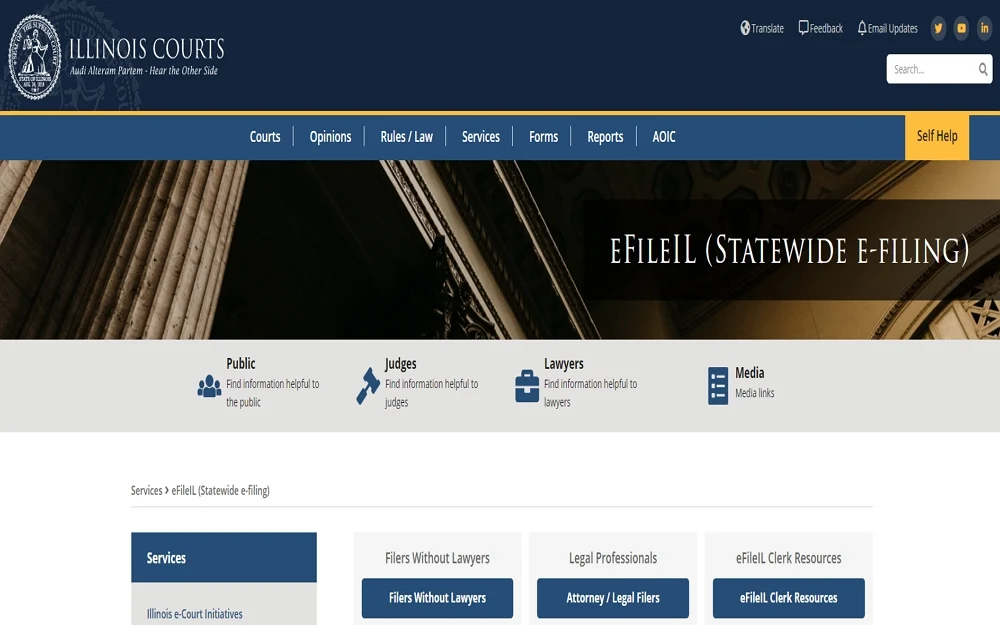 Sealing or expunging a record gives the subject a better chance at securing employment or housing where a criminal record may have been a barrier. Even if the person served a term in prison, if all conditions have been met, the individual can petition the court to seal or expunge the record, and how to find out if someone is in prison in Illinois is outlined below.
Finding Illinois State Prisoners & Federal Offenders
Citizens in Illinois may be curious about who is in prison in their state, or want to find out if a person they testified against or the person who committed a crime against them is still in prison. There are five federal prisons in Illinois and 43 state institutions. To search federal inmates in Illinois, do the following:
Open the Federal Bureau of Prison BOP search portal.
Enter the subject's name. Race, sex and age can also be added when available and click search at the bottom.
Review the list of search results to find the records that match the subject. If the person is still in federal custody, the search results will show the location beside the section labeled: Located At.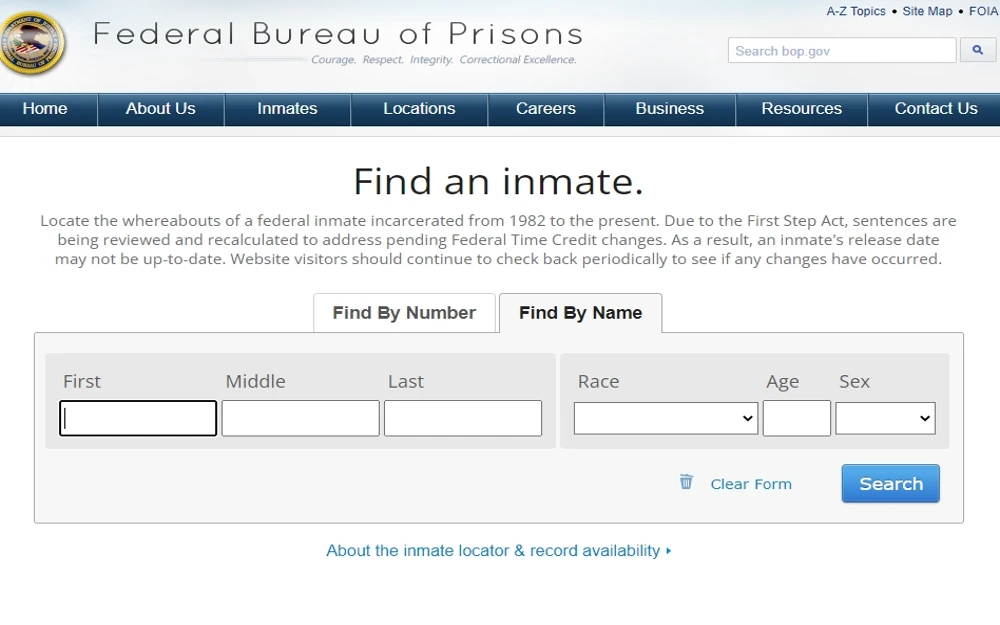 Federal prisoners only make up a small portion of overall prisoners in Illinois. Most people placed in custody are convicted of violating state laws and placed in a state maintained correctional facility.
To search for a state correctional inmate, do the following:
Open Illinois Department of Corrections website.
Hover the mouse over the section titled: Individuals in Custody, and choose the individual in custody link from the drop-down menu.
Check the circle to conduct the search by last name.
Enter the subject's last name in the search box and click the find button.
Scroll through the list of search returns to find the records that match the search subject.
Highlight the records to be reviewed and click the button at the bottom labeled: Query a Highlighted Inmate to see details.
Details will show a mugshot of the inmate, a physical description, convictions, where the inmate is located, projected parole date, projected release date, and the total length of the sentence imposed.14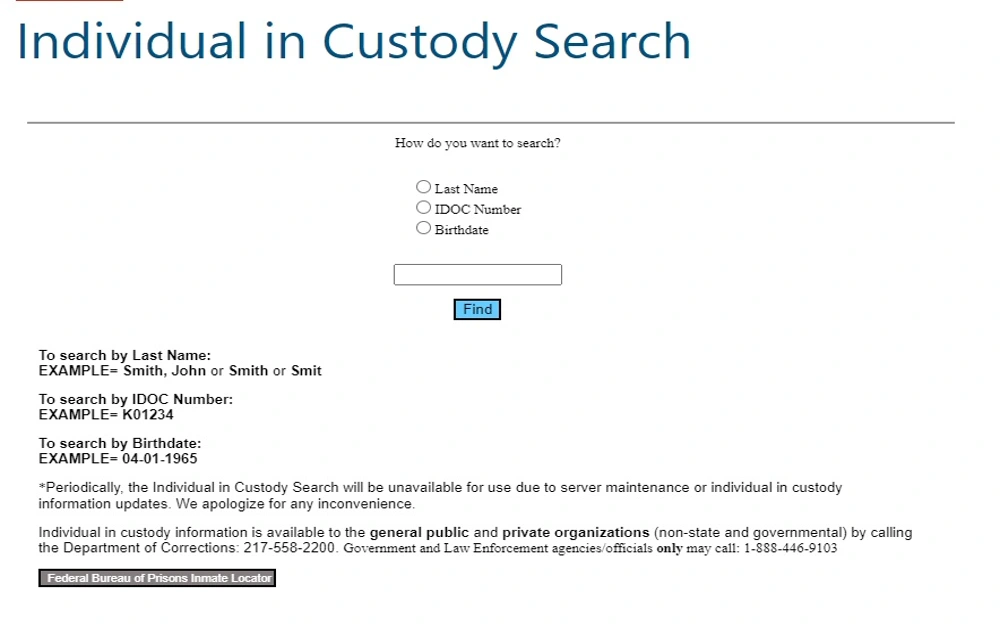 Prison is usually the last part of a person's sentencing unless the individual is released on parole. For those who serve out their term, once released they are no longer under any type of conditions unless they are required to register as a sex offender which will be discussed later in the article.
Cases typically start with the issuance of a warrant, which will be discussed in detail below.
Run an Illinois Warrant Search to See if You or Someone Else Has an Arrest Warrant
People want to know if there is a warrant out for their arrest, or if friends or family are wanted by the police. Warrants are generally considered public records in the state, but there is not a centralized state warrant database that can be reviewed.
Instead, individuals need to check with the local law enforcement agency where they live or work to see if warrants have been issued.
Many agencies will publish a list online of active warrants and encourage those with a warrant to turn themselves in and resolve the matter. To search for warrants in a specific area, do the following:
Using the steps and table above on how to locate an inmate is also how to find out about posting bail or visitation/contact with an inmate at the facility where the person is housed. The agency may publish a most wanted list, a warrant roster, or the agency may not include warrant data on the webpage at all.
For example, someone in Lake County may ask themselves: how do I know if I have been charged with a crime? When searching warrants in that area, the searcher will type Illinois Lake County warrants, and the official site would be the Lake County Sheriff's Office website. From this website, searchers can review a PDF file of all the active warrants in that county.
The warrant list has the individual's name, last known address, age, sex, race, date of birth, height, weight, hair and eye color, and when the warrant was issued.15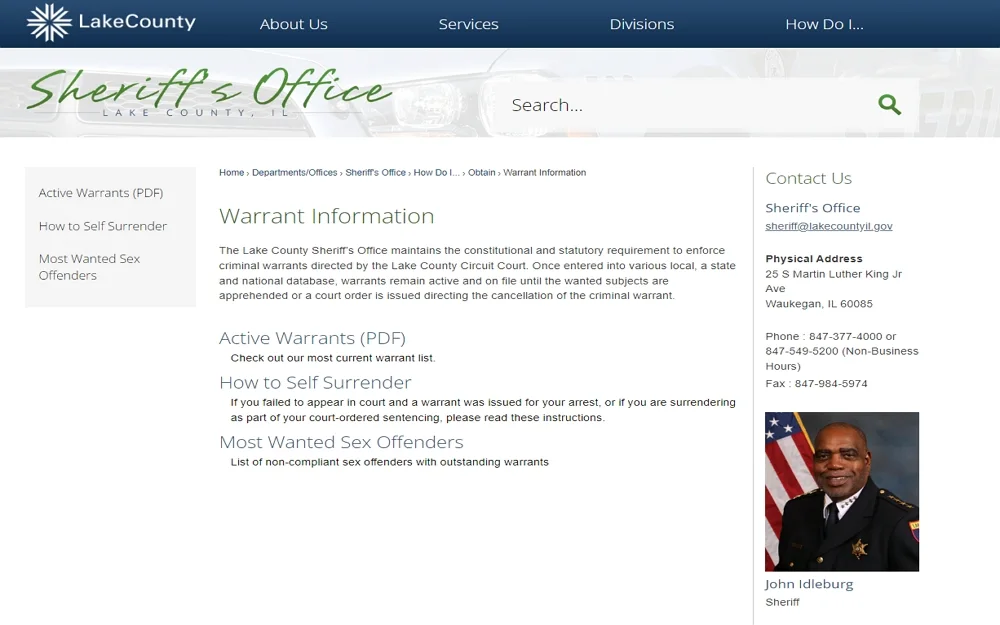 The Chicago Police Department also publishes a list of active warrants on the agency website. In addition to the information listed in the Lake County list, Chicago PD also includes the crime the person is accused of committing and a mugshot of the alleged offender; however, a search of CPD's website shows that many warrant lists have not been updated in a few years.16
If someone suspects they have a warrant out for their arrest, they can hire an attorney to help them find out if a warrant has been issued. The attorney can also help the person surrender to the police and work toward getting bail issued quickly while working on the person's defense in court.
Warrants may or may not appear on a background screening, depending on what kind of check is being performed and who is conducting the screening.
A Brief Summary of Illinois Background Check Agencies
Here we have compiled information on the various agencies in Illinois that conduct background checks or require one for employment or licensure. The table below breaks down the agencies and what the screenings cover for each agency or state department:
Official Illinois Background Check Agency
Screenings Covered
Illinois State Police

Employment
Volunteers
Housing applications
Statewide background checks
Nationwide background checks (in coordination with the FBI)

Illinois Department of Human Services

Healthcare workers (nurse aides, home health)
Adult day care workers
Adult care administrators

Illinois Department of Child and Family Services

Childcare workers
Childcare administrators
Childcare volunteers
Foster care parents
Adoptive parents

Illinois Department of Financial and Professional Regulation

Acupuncturist
Adult cannabis dispensers
Advanced practice registered nurses
Appraisers
Architects
Athletic trainers
Auctioneers
Cemetery workers
Clinical psychologists
Collection agents
Cosmetology practitioners
Dentists/dental assistants
Design firm workers
Detectives (store and private)
Dietitians
Environmental health workers
Funeral workers
Geologists
Home inspectors
Interior designers
Land surveyors
Landscapers
Marriage counselors
Massage therapists
Medical professionals
Nurses
Occupational therapists
Optometrists
Orthopedic specialists
Pharmacists
Physical therapists
Podiatrists
Public accountants
Realtors
Roofers
Sex offender treatment providers
Social workers
Speech/language pathologists
Veterinarians

Illinois State Board of Education

Teachers
Substitute teachers
Teacher assistants/aides
School administrators
School support staff
School bus drivers
The primary purpose of a background check by one of the agencies listed above is to see if a person has any disqualifying offenses in their background. Disqualifying offenses include items found on felony registry lists such as sex offender registries or FBI rap sheet reports as discussed below.
Searching the Illinois Sex Offender Registry for Nearby Sexual Predators
Due to the nature of the crime, individuals convicted of a sex offense are required to register with the local sheriff's office in the county they reside. Citizens have the right to view this registry to see who in their neighborhood has been convicted of a sex offense to increase public safety and awareness.
Reasons for searching the registry can range from curiosity to a need-to-know for employment, licensure or housing applications. An individual with a sex offense can be denied housing if it would place the person in violation of the registry, or denied employment if the conviction would place the public in danger or endanger vulnerable populations.
To search the registry do the following:
Open the Illinois State Police website.
Click the link for the sex offender registry.
Read the disclaimer and click the agree button at the bottom to proceed.
Enter the subject's first and last name and click the find button.
Review the list of search returns for the record that matches the subject.
Information provided through the registry includes: offender name, aliases, address, mugshot, physical description, crimes convicted of, county of conviction and whether or not the person is in compliance with the registry requirements.17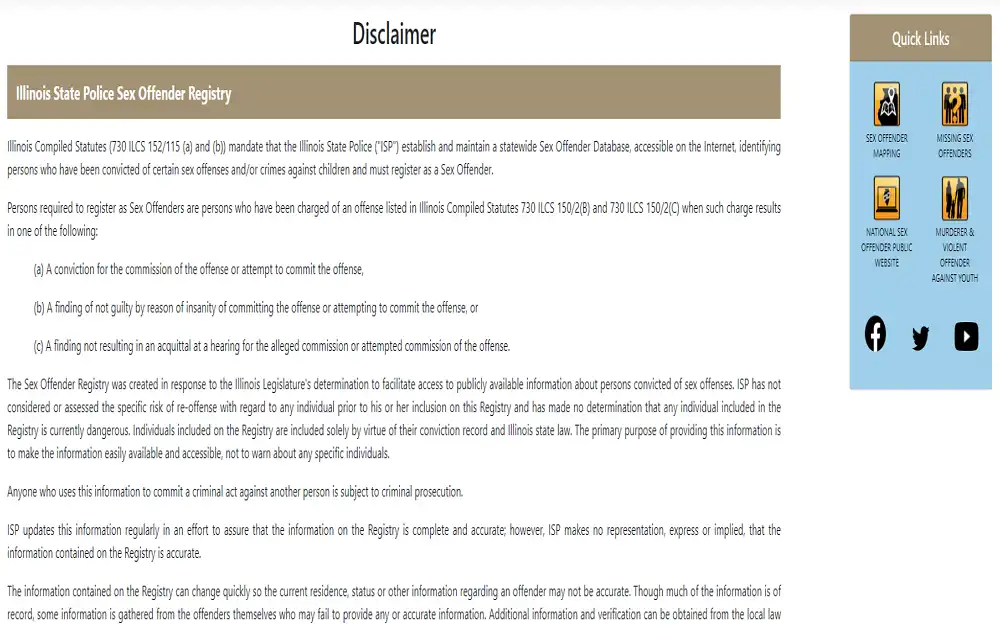 Utilization of the sex offender registry information for housing or employment purposes is subject to the same laws as other criminal history data, but must comply with state and federal statutes.
Run-Down of Criminal Records & Arrest Records Laws in Illinois
Ultimately, any use of Illinois criminal records are subject to the state and federal laws that limit what can be released and how it can be used.
In 2021, the state passed the Employment Background Fairness Act (HB 3056) which made it unlawful to refuse employment to a person based solely on a criminal conviction in the past. Employers must weigh the conviction with how it will directly impact the person's ability to perform the job.
For example, a person convicted of child abuse would automatically be denied employment in a childcare center, but cannot be automatically denied employment in a fast food restaurant based on the past conviction per this statute.18
This bill mirrors the Equal Employment Opportunity Commission guidelines on using criminal or arrest records in making hiring decisions, and the EEOC enforces anti-discrimination laws on the local level that unlawfully use background checks in a discriminatory manner. The state law is an added reinforcement to already existing federal laws.
The Uniform Conviction Information Act of 1991 (20 ILCS 2635) designated the Illinois State Police as the official criminal record repository. The act also limits release of records to conviction information for the state of Illinois only. Nationwide checks must go through the FBI for a rap sheet if an agency needs a national screening.
The UCIA also requires agencies to maintain a file for 2 years including the subject's written consent to a background screening, the subject must be provided a copy of the screening report, and give a 7 day window for the subject to notify the Illinois State Police if the information on the report is incorrect. Finally, the UCIA establishes fees for the background check service.19
Background screenings for certain positions such as working with children or vulnerable adults (elderly/disabled) are also subject to the Adam Walsh Child Protection and Safety Act and the National Child Protection Act which states certain offenses are automatic disqualifiers for positions working with vulnerable persons.
Illinois also has the Job Opportunities for Qualified Applicants Act which is the state's ban the box law prohibiting employers from inquiring about a person's criminal history until the person has been referred for an interview after an initial determination the person meets the job qualifications.
Finally, the Fair Credit Reporting Act prohibits looking back more than 7 years for most positions and applies to non-convictions as well, meaning there is an added level of protection against non-convictions appearing on an Illinois background check. FCRA guidelines pertain to commercial people finder sites as well as government agencies.
All of these laws also govern arrest records in Illinois, outlining what can and cannot be released to the public, and the responsibilities of agencies that have these records when presented with a record's request.
By using this free guide, individuals conducting background checks can quickly and easily find arrest records in Illinois and learn who is in custody. This guide also tells how to check Illinois criminal records to learn if someone has a criminal history when making decisions on hiring, licensure or housing applications.
150 ILCS 205/ Local Records Act. (n.d.). Illinois General Assembly. Retrieved January 23, 2023, from <https://www.ilga.gov/legislation/ilcs/ilcs3.asp?ActID=699&ChapterID=11>
2Get copies of juvenile court records. (n.d.). Illinois Legal Aid Online. Retrieved January 23, 2023, from <https://www.illinoislegalaid.org/legal-information/toolboxes/juvenile-records/get-copies-juvenile-court-records>
320 ILCS 2635/ Illinois Uniform Conviction Information Act. (n.d.). Illinois General Assembly. Retrieved January 23, 2023, from <https://www.ilga.gov/legislation/ilcs/ilcs3.asp?ActID=351&ChapterID=5>
4Inmate Verification. (2019, September 26). Chicago PD. Retrieved January 23, 2023, from <http://publicsearch1.chicagopolice.org/Arrests/Details/17062759>
5Police Department | Aurora, IL. (n.d.). Aurora-il.org. Retrieved January 23, 2023, from <https://www.aurora-il.org/apd>
6Police Department. (n.d.). City of Joliet. Retrieved January 23, 2023, from <https://www.joliet.gov/government/departments/police-department>
7reSearchIL. (2012, October 29). Illinois Court Search. Retrieved January 23, 2023, from <https://researchil.tylerhost.net/CourtRecordsSearch/Home#!/home>
8Post Bond for an Inmate. (n.d.). Lake County, IL. Retrieved January 23, 2023, from <https://www.lakecountyil.gov/2033/Post-Bond-for-an-Inmate>
9Illinois Court Case Search. (2022, August 10). Illinois Court Cases. Retrieved January 26, 2023, from <https://researchil.tylerhost.net/CourtRecordsSearch/Home#!/home>
10What's On My Record – Bureau of Identification. (n.d.). Bureau of Identification. Retrieved January 23, 2023, from <https://isp.illinois.gov/BureauOfIdentification/MyRecord>
11Illinois Department of Corrections – Inmate Search. (n.d.). IDOC website. Retrieved January 23, 2023, from <https://www.idoc.state.il.us/subsections/search/ISinms2.asp>
12Illinois Standardized Forms – Approved – How to Expunge and/or Seal a Criminal Record. (n.d.). Illinois.gov. Retrieved January 23, 2023, from <https://www2.illinois.gov/osad/Expungement/Documents/Adult%20Exp/ExpungementSealing_Instructions_Approved.pdf>
13What offenses can be sealed? (2022, February 11). Illinois Legal Aid Online. Retrieved January 23, 2023, from <https://www.illinoislegalaid.org/legal-information/what-offenses-can-be-sealed>
14Individual in Custody Search. (n.d.). IDOC. Retrieved January 23, 2023, from <https://idoc.illinois.gov/offender/inmatesearch.html>
15Lake County Sheriff's Office. (2019, May 2). 1/21/2023 Warrants as of: 1:00:08AM. Retrieved January 23, 2023, from <https://apps03.lakecountyil.gov/sheriff/pdfs/activewarrant.pdf>
16Warrants. (2016, April 8). Chicago Police Department. Retrieved January 23, 2023, from <https://home.chicagopolice.org/tag/warrants/>
17Illinois Sex Offender Registry. (n.d.). Illinois State Police. Retrieved January 23, 2023, from <https://isp.illinois.gov/Sor/Details/X00A4388>
18Bill Status for HB3056. (n.d.). Illinois General Assembly. Retrieved January 23, 2023, from <https://www.ilga.gov/legislation/BillStatus.asp?DocNum=3056&GAID=15&DocTypeID=HB&SessionID=108&GA=101>
19GUIDE TO. (1999, July 1). Illinois State Police. Retrieved January 23, 2023, from <https://www.isp.illinois.gov/StaticFiles/docs/Identification/5-727.pdf>
20Adams County Jail Population Sheet. Accessed 3 May 2023. <https://www.co.adams.il.us/Home/ShowDocument?id=5357>
21Inmate Lookup – C – Tazewell Dev." Tazewell Dev. Accessed 3 May 2023. <https://sheriff.tazewell-il.gov/inmate-lookup-c/>
22Services – Adult Arrest Search." Chicago Police Department. Accessed 3 May 2023. <https://home.chicagopolice.org/services/adult-arrest-search/>
23McHenry County, Illinois Bail Bond Sheet. Accessed 3 May 2023. <https://www.mchenrycountyil.gov/home/showpublisheddocument/22815/635132893930500000>
24State of Illinois Office of the Illinois Courts. Accessed 3 May 2023. <https://www.illinoiscourts.gov/>
25Illinois State Police Home Page. Accessed 3 May 2023. <https://isp.illinois.gov/>
26Illinois Probation. Accessed 3 May 2023. <https://www.probation.illinoiscourts.gov/home>
27Illinois.gov. Accessed 3 May 2023. <https://www2.illinois.gov/osad/Expungement/Documents/Adult%20Exp/ExpungementSealing_Request_Approved.pdf>
28Expungement & Sealing." Office of the State Appellate Defender. Accessed 3 May 2023. <https://osad.illinois.gov/expungement.html>
29eFileIL | Office of the Illinois Courts." Illinois Courts. Accessed 3 May 2023. <https://www.illinoiscourts.gov/eservices/efileil/>
30BOP: Federal Inmates By Name." Federal Bureau of Prisons. Accessed 3 May 2023. <https://www.bop.gov/mobile/find_inmate/byname.jsp>
31Individual in Custody Search." IDOC. Accessed 3 May 2023. <https://idoc.illinois.gov/offender/inmatesearch.html>
32Warrant Information." Lake County, IL. Accessed 3 May 2023. <https://www.lakecountyil.gov/2074/Warrant-Information>
33Disclaimer." Illinois State Police. Accessed 3 May 2023. <https://isp.illinois.gov/Sor/Disclaimer>